Oklahoma City Employee Relocation Services
The way we assist in the relocation of your Oklahoma City employees benefits your business precisely because it benefits them.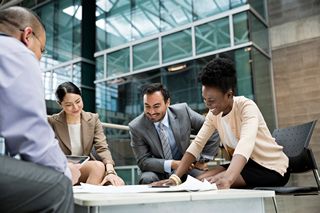 Oklahoma City employee relocation is but one more of our strengths here at A-1 Freeman Moving Group. Our goal is to make each and every corporate relocation a smooth, pleasant-as-possible experience for the company employing us. A primary way we measure our achievement of this is how pleasant an experience we've made the move for each company's employees. To be sure, their satisfaction and their employer's are not separate considerations. To ensure the happiness of everyone involved in your corporate relocation, we give you a full range of moving services. Our strategy involves catering in every way to your company's productivity & operational needs while also looking to your employees' personal requirements. For starters, our having smoothed out the corporate relocation process over the years we've been moving companies here and there helps immeasurably to lessen the headaches and hassles of moving.
EMPLOYEE RELOCATION 'SILENT' SERVICES
For further details on our "Silent" Employee Relocation Services and how they can contribute to the smooth execution of your corporate relocation, explore our website. Then call A-1 Freeman Moving Group. And you can always, without obligation ...
Request a free quote