Don't Forget These Things When Moving to Oklahoma City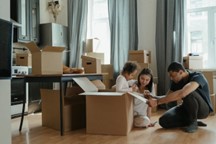 By Julie DeLong, A-1 Freeman Moving Group
Moving can be challenging. All too often in the rush to get the
local moving company in Oklahoma City
arranged, the boxes packed and figure out what you will be keeping and what you are getting rid of, you overlook some significant things. To help keep you on track, below is a checklist of items to consider to do which will make your move to Oklahoma City effortless and uneventful.
Change Your Address. Officially register with the post office your change of address. The United States Post Office will forward your mail for up to a year after your move. You can let the postal service know about your move up to thirty days in advance. This should assure that all your last invoices, banking documents as well as other important mail is sent to your new house at the same time as when you and the professional movers in Oklahoma City get there along with your stuff. If you have kids in school, let their school know your new home address also in the event you need their records sent to you. Once you get to your destination, begin to notify each institution individually. Furthermore, don't forget to let relatives and buddies know that you've moved.
Cancel Utilities and Home Services. Contact your utility companies in advance and let them know your final billing/service date. This can include your telephone, cable television, electricity, water, lawn care, cleaning companies, pest control, security alarm company as well as other infrequent services like a dog sitter or perhaps the Sunday newspaper delivery. Be sure and coordinate the cutoff time together with your moving company. You should not get the electric, natural gas or water cut off ahead of moving day. When you are part of an Home Owners Association, make them alerted of your last day of residency in order to avoid any extra costs.
Update Your Insurance and Registration Info. When you have an insurance consultant, call them to inform them of the move. This includes car, residence, life and health insurance coverage. Moving to a new city or a new state could influence the prices you're paying so you'll want to make it happen at the earliest opportunity. In addition, while updating your vehicle insurance plan, be sure you update your vehicle's registration.
Alert Your Workplace. Should you be moving nearby, and not switching work, you should definitely advise your workplace. They'll need to bring up to date their company records and, in some cases, if you're moving across state lines, will probably need to adjust payroll.
Clean up Your Old Property. After the professional long-distance movers have left and just before you turn over the keys to your old house, be sure to thoroughly clean, or book a cleaning of, your old residence. This will ensure that you will get back your security deposit if you're renting. If you are selling your home, and your home is still on the market, this is a must to help catch the attention of possible buyers.
Change/Delete Passwords for Residential Environment Systems. Quite a few houses these days contain smart technology set up such as locks on front doors, heating and cooling, lights, and alarm systems. Sometimes, you might have security password secured applications which you use to manage and keep tabs on these systems. In that case, make sure to give the important information to the future property owner however be sure you logout or erase all info pertaining to these systems.
Update Your Online Profiles. If you routinely purchase products online, make sure to change your shipping and delivery street address. This can be an excellent chance to update your information with your banking institution, medical professionals and any different vendors you frequently deal with online.
Execute a Walkthrough of Your New Home. When you initially reach your new residence, do a swift walk through to help become acquainted with some of the key features of the residence. You should be able to quickly find the smoke alarms, carbon monoxide sensors, the electrical panel and sump pump--if there exists one. Inspect to be certain they are all in excellent condition.
The main element to preserving your cool when moving is always to have a plan. Using checklists will assist you to remain organized and make certain that your move is as easy as conceivable. Contact your local professional mover in Oklahoma City, A-1 Freeman Moving Group for more tips on how to have a stress-free move.
Click below to get started with your Free Estimate.
Request a free quote