Moving Quotes: Compare Apples to Apples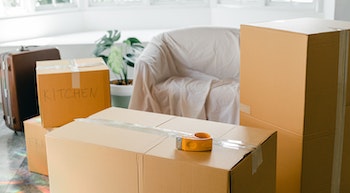 By Julie DeLong, A-1 Freeman Moving Group
Whether you are moving your household to a new area in town, or you are taking your business across the country, choosing the ideal
moving company in Oklahoma City
is key for a productive relocation. To implement your estimate process properly, obtain 4-5 estimates and subsequently make an apples to apples contrast. Simply by reviewing your quotations to verify the same inclusions, you will save money and time, and you will stay away from any ripoffs or unscrupulous moving charges. Here are some items to consider when comparing your moving quotations.
Weight, Mileage, and Time
Check the parameters of your quotations to ensure that they are all for the same estimated weight, mileage, number of personnel, and projected hours. Should you be obtaining estimates for a long-distance move to Oklahoma City, make certain you are quoting with a interstate moving company instead of a moving company who cannot transfer items interstate. Computations pertaining to number of staff and also hours could differ dependant upon the business. A few moving companies will charge a set price for up to a certain amount of hours, and then charge a per hour price per worker for each hour after that. This may result in an expensive increase in your moving fees. In addition, miles should be distinctly revealed and also calculated for all estimates, to be certain that there's no per-mile add-on to the quotation after the fact.
Storage, Insurance, and Supplemental Services
When you compare your quotations, look for added services which do not appear in all your quotes. It's not possible to come up with a correct apples-to-apples comparison if one quote includes packing and materials, and the others don't. Watch out for all other add-ons, like insurance packages, storage time and space, distance and fuel. Whenever the many estimates are set up the same way, with the same inclusions, you are less inclined to be taken in by a mover who offers a low estimated price and after that nickels and dimes you with hidden service fees and extras. When distance or fuel prices are to be additional, be sure that the provided prices are inside the same range on all quotations.
Other Items to Watch Out For
When reviewing your moving estimates, be wary of extremely high or very low rates. You ought to have an assortment of 4-5 estimates, to offer you a straightforward idea of the average charge for your move. When a price is substantially below the remainder, investigate to make sure that the details of that quotation match the others, and that there won't be any extra fees, distance charges, or hourly fee rules that will increase the price when your move is underway. Additionally, in case a quote is significantly more than the others, make positive they are not overestimating hours or miles, and they have not included services that aren't found in the other prices. Inspect to ensure that all your moving companies have followed any licensing polices, and that they're estimating adequate manpower to complete the move in a timely fashion. Don't forget, if an estimate seems too good to be true, it likely is.
Make Inquiries and Don't Think Twice to Inquire about Adjustments
If you feel that you aren't able to make a precise comparison for the reason that a few or all your quotations have contradictory services, don't be reluctant to reach out to the moving companies with detailed modifications to the quotes. It's your move, and it is vital that you have got every piece of information you need to help make the best choice. Ask for a copy of the quote in writing, so that you can quickly make side by side comparisons. Verify that all your estimates have the identical stipulations. Finally, assess online reviews. Former customers will often leave positive and negative evaluations, which includes information about obscured costs or items they disregarded in their own quotations. Checking the reviews is a great ultimate step before you decide on an estimate.
For additional tips on finding the right moving company in Oklahoma City for your move, visit A-1 Freeman Moving Group today! We offer long distance and local moving for numerous residential, commercial, and corporate customers. Contact us today for a quote, and let our experienced staff assist you with your upcoming move!
Request a free quote