Out with the Old(er), Into a Newer Space: Seniors on the Move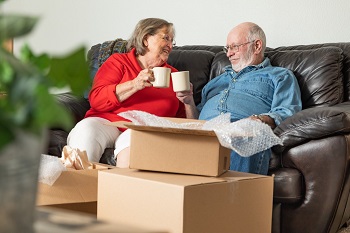 By Julie DeLong, A-1 Freeman Moving Group
America is a society on the move: over thirty-two million people moved to a new residence in 2018; that quantity represents approximately 10% of the total population. Seniors transitioning to new homes comprise a small but vital portion of people packing up and starting over in new neighborhoods. Relocating to Oklahoma City is often a time of both excitement as well as stress irrespective of family size and situation yet changing locations can present unique challenges for older individuals.
Eight tips on a stress-less senior moving event
Get started planning in advance of moving day
A number of variables go in the evaluation of where and when to move: health, the need for an adjustment of surroundings or kind of housing, living cost, the chance to travel or perhaps the wish to be closer (or maybe a greater distance away from) relatives and close friends. The option of a new residence incorporates convenience to retail stores, medical services, transportation, activities, and cultural centers. Study towns and cities of interest. Look at relevant local weather patterns, facilities, politics, and also public amenities within the selection. Many hometown newspapers are now on the internet, so it's a good idea reading a few days' worth to have a perception of daily life inside a possible new hometown.
Inform family of the conclusion
Keep family members up to date on the arranging of the move. Their engagement helps ease the strain as well as their insight, particularly from those with moving experience, will be important to stay clear of pricey and unnecessary issues.
Prioritize what the new area will need to be right for you
Compare your current neighborhood to the ones being considered. What do you like regarding where you reside currently? What must have betterment? Next create good vs. bad list. Are there elements you really like so much that you would spend more to have them? Are there details you merely cannot deal with, irrespective of how much you adore everything else concerning the place? There isn't a perfect spot, but many are wonderful; the bottom line is finding the one that balances best together with your senior lifestyle.
Get to know the new neighborhood with a visit and/or rental initially
Before you decide to place all your hard earned dollars into a property or condominium or pay 2 months' security down payment, consider a short-term rental, a vacation or visit nearby with friends and do a test run of a new area. Stay a little bit, walk, shop, dine, and meet the people, understand the social norms as well as local politics, and pay attention to what it truly costs to reside there.
Declutter, give away, recycle, sell
You've made the conclusion to move forward, now clean out before you pack up. Declutter and donate, sell off, or recycle everything you no longer need, want, or won't fit in the new place. Just by accomplishing this, your professional moving company in Oklahoma City will likely have a smaller amount to move, that will decrease your overall cost to move.
Fix it, clean it, paint it, or tolerate it: repairs vs. remodeling
Make decisions regarding what to repair or replace as you get your old house in a position market or get ready to vacate your condominium. Basic fixes are generally tasks like holes from the pictures around the wall surfaces ought to be filled in, scuffed wall space painted, baseboards wiped clean, the refrigerator wiped clean, and also the stove scrubbed. Significant remodels may result in a higher resale on the residence, however some renovations may backfire should they be outdated by modern buyers' standards or so expensive you can't get back the price.
Self-pack vs assistance to pack: lifting, loading, and letting somebody else to get it done
Recognize your limits and keep your lists on hand. Getting injured while packing up is not a way to start a fresh life. The lists will allow you to remember the number of cartons you've got and what is filled in every one, therefore you do not put pots and pans within the bathroom after reaching your new abode. Consider your body's ability to work countless hours lifting and labeling a multitude of boxes and permit yourself the help of a professional moving company in Oklahoma City.
The function of the professional movers
As a professional residential mover, A-1 Freeman Moving Group in Oklahoma City is here to assist you in getting from where you are to where you wish to be, safely and efficiently. Our company specializes in the senior citizen moving experience and our nearly half-century in the field means that whatever move you make, whether it is to a smaller residence, retirement community or perhaps an international location will comprise of careful packing and unloading, shipment tracking, home furnishings and appliance installation, as well as safeguard of floor surfaces, wall space, banisters, as well as furnishings. Give us a call for your no cost quote and we'll move you along the path to your future new home.
Request a free quote