Unpacking: The Forgotten Task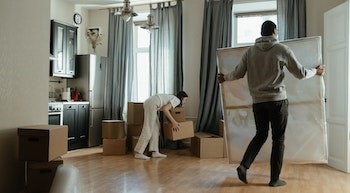 By Julie DeLong, A-1 Freeman Moving Group
Moving to Oklahoma City is usually both exciting and tedious! Together with taking care of yourself over the move, there are actions to take to make unpacking and moving into your new house, less stressful.
Given that moving is usually tedious as well as bland, music is a great technique to stay motivated and concentrated. It can even boost your mood therefore consider having a stereo system or tv set up so you're able to work to the sound of your favorite tunes or have a Bluetooth speaker on hand to hook up with your mobile device.
Planning and Organizing Are Still Essential
Packing carefully can certainly significantly decrease tensions and also headaches as you reach your new residence. Pack an "essentials" box (or even a couple) containing things you will need right away at your new home. This container will comprise of such things as:
· Bathroom towels.
· Toiletries.
· Sheets/blankets.
· Essential food preparation implements.
· A couple of cups, dishes, bowls (conversely, you could choose to order out or have non-perishable foods to eat on your initial night).
By doing this once you reach the new home in Oklahoma City, you will have what you need to get through the primary overnight.
Furthermore, be sure to label every carton with which room it ought to go into when it arrives. In this approach you'll not have to blindly open boxes unsure of what is inside or sift through countless cartons to locate something you may need.
You may also have already a feeling for where the furnishings are to go. Thinking about where exactly every piece will go ahead of the move could accelerate the task and enable you to keep organized and centered on the remainder of the unpacking.
Office
If you have a home office, you may have to unpack these products first to stay on top of your company. When you are a work-from-home individual, clearly you will want to have your working environment unpacked, arranged, and operational so you will not get behind.
Set up the Furniture
Moving day in Oklahoma City is usually strenuous and you may probably be happy to crawl into your bed that initial night. This is why constructing and making your bed(s) is an excellent start prior to unpacking boxes.
You will not like to need to do it after you've spent the whole day unpacking boxes and bags as well as setting up. The good news is that if you have hired a professional moving company, they will likely assemble the beds for you.
Unpack the Kitchen
When you have the beds constructed, your kitchen is the most reasonable place to begin unpacking. Since the kitchen is considered the heart of your house, getting your cabinets, cupboards, and appliances all unpacked and organized will assist you to shift into the new house.
If you have an eat-in kitchen, you will likely also have a table which will help you unpack in a significantly more structured means.
Attend to the Bathroom
Once you expend all day unpacking and setting up, you will most probably like to take a shower or sit in an unwinding bath. The "essentials" carton will comprise of the toiletries, soaps, shampoos, medications, along with other things that are essential for the bathroom.
Getting the bathroom and kitchen unpacked tends to make unpacking your other items less difficult.
Go on to the Bedrooms
Since the furniture is already in place, the bedrooms should be the next to unbox. For those who have packed the bedsheets in clear plastic bags or bins, it will be easier to recognize which bed sheets belong in which room. Conversely, write the particular person's bedroom on the box immediately after packing it to make it less difficult.
Unbox the Living and Dining Rooms
Ideally, you have your pieces of furniture in place which can make unpacking whatever else less complicated. Don't be concerned with regards to decorative things for example wall-hangings or knick-knackery until all of the necessary things are unpacked.
Non-Essentials
Seasonal belongings like holiday accessories or stuff that you hardly ever use might be unpacked last. These items will often head to an attic, cellar, storage room, or garage.
Just like packing, unpacking is made less difficult with preparation and organization. Being orderly about the method will assist you to ensure that you enjoy your new home as seamlessly and swiftly as possible.
If you need help with packing or unpacking services, A-1 Freeman Moving Group, your local moving company in Oklahoma City, can help!
Request a free quote